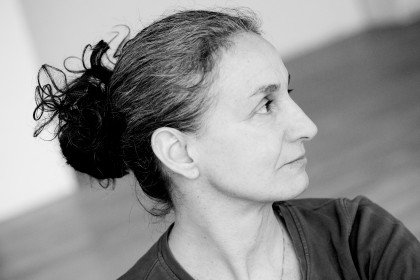 Susanna is the shala's main teacher
She has been teaching in Copenhagen since we opened in 2000. Susanna is teaching all the morning mysore classes and also some afternoon mysore classes. Occasionally she gives special classes with topics for the students to deepen their understanding of Ashtanga yoga.
Hosting Guruji
Guruji and his family came to Copenhagen in August 2006 where Susanna was hosting them and for Sharath and his workshops in August 2009 , September 2011 and next time in August 2013 with Astanga Yoga Copenhagen.
During her trips in Mysore she took several classes in chanting , YogaSutra, Bhagavad Ghita and the first encounter with Sanskrit with Lakshimish Bhatt, the family priest of the Jois family , who has also a degree in Sanskrit and introduces the indian tradition to the westerners at the KPJ shala. From 2009 she also has studied the Yogasutra, Bhagavad Ghita with Dr Jayashree and Prof. Narasimhan, great scholars living also in Mysore, deepening the philosophy behind the yoga and the beauty of chanting. Dr Jayashree and Prof. Narasimhan were invited by Susanna at the Copenhagen shala to give workshops in 2009 and 2012.
In the beginning of 2011 she hosted a course on the Yogasutra at the Copenhagen shala with Prof. Ken Zysk then becoming more curious about the language of the indian wisdom, she enrolled in Sanskrit at the University of Copenhagen in September 2011. She continues to deepen her study of Sanskrit .
In 2011 she met Eddie and Jocelyne Stern, practicing with them in Lisbon and again in Helsinki with Eddie inviting him to Copenhagen where he gave a workshop in the shala december 2012.
"I am thankful to all dear friends, colleagues, teachers and students I have met and continue meeting on the path of Yoga . I thank Elisa, Massimo, Maria, Juha, Elena, Tina,Gabriele, Monica, Lino, Rossana, Petri, Sara, Fernando, Mark and also Hanne for inspiration.
– Develop your own yoga practice.
The asana practice is the core of the teaching in the school and the starting point for the other limbs of Ashtanga yoga. This is the tool to find our way to acceptance of ourselves and love with a good health, joy of life and self-development. Through the practice you create an inner space with the feeling of freedom and possibilities though we often in the beginning just feel the limitations.
– Relationship between teacher and student is based on trust.
The relationship is developed in the contact between the teacher and the student and cannot be forced be either one. The teacher must start in the present situation to take care of the student and his or her needs with the aim to make the student take care of him or herself in developing the inner teacher.