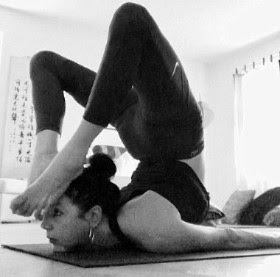 Back bends basic – tema-klasse med Isabella Nitschke
Back Bends Basic – Saturday 9th June 10am-12 pm
price: 200DKK
Bending back really means to stretch both the front AND the back and create space in the whole body. In daily life we sit a lot, drop the shoulders, and bend forward and round our backs – we limit our space. The front of the body becomes compressed, and we limit our ability to breathe properly. Our core muscles weaken and our spine loses its flexibility and is negatively affected – which results in poor posture, back pain and difficult deep breathing.
In the primary and especially the intermediate series of Ashtanga Yoga the yoga practitioner is introduced to several back bends that open both the shoulders, the chest and hip-flexor muscles. Regular practice of these two series makes our body more balanced. The muscles of the torso and legs are strengthened and stretched and we create better support for a healthy spine and gets easier to breathe.
This workshop gives you the opportunity to deepen your understanding of the mechanisms involved in back bending and teaches you techniques to help you open and strengthen the body to safely do backbends. In a playful manner, we explore a number of back bending asanas in this efficiently choreographed vinyasa style class. We go through basic techniques to some more advanced backbends from the second series of Ashtanga yoga.
The workshop requires participants to have a regular and steady yoga practice – it is not suitable for beginners. Places are limited and pre-registration is done via (email)
The class is taught by Isabella Nitschke, authorised Ashtanga Yoga teacher (level II) by the KPJAYI, Mysore. The class is held at Astanga Yoga Copenhagen and is open to all levels of yoga practitioners except complete beginners. Places are limited and pre-registration is required*.
* Registration is binding, cancellations need to be done the latest 24h in advance for refunds to be made.
Upon receipt of confirmation transfer 200dkk to our account (if you make international transfer please remember to cover our fee as well by adding 50kr)
Danske Bank 3409 konto 10942535
IBAN: DK3930000010942535
SWIFT: DABADKKK
Mobilepay: 65090