Jens Bache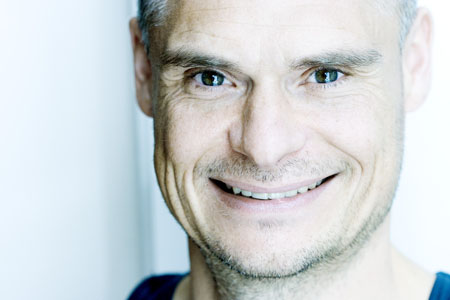 Jens is founder of Astanga Yoga Copenhagen
Jens teaches afternoon mysore classes and is the main teacher on the introduction courses with Saturday workshop and instructed classes for beginners. He has received the blessings to teach by Guruji Sri K. Pattabhi Jois and Sri R. Sharath Jois in 2007.
Going to Mysore
The urge to get to the origin of his interests made him after a few years of practice to travel to the source of Astanga yoga in Mysore in 2003 to study with Guruji at KPJ Ashtanga Yoga Institute – and he has returned yearly since. In August 2010 he completed the special training course in Mysore with Sharath and in January 2011 he had the rare opportunity to assist a full Month in the famous yogashala of KPJ Astanga Yoga Institute in Mysore under Sharath's guidance. In the Summer 2014 Jens is participating on the special course in Mysore only for teachers selected by R. Sharath Jois.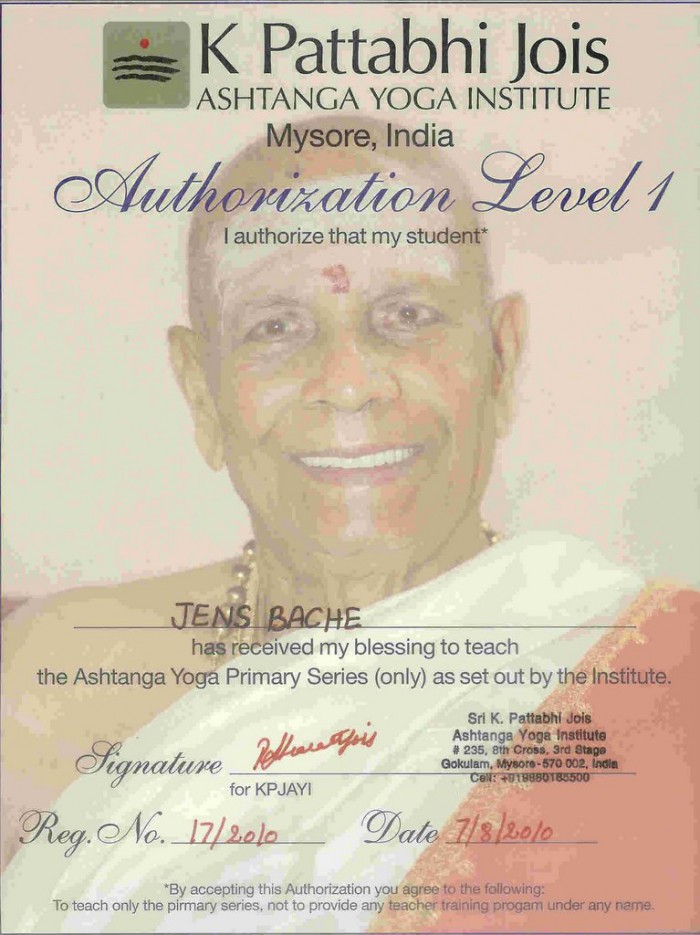 Jens first met Guruji, Saraswathi and Sharath in Helsinki in 2001 and from the first meeting had the outmost respect for the very special presence, sincerity and spiritual varmth coming from the Jois family.
"In August 2006 it was a great hounour to host of Guruji, Sharath and Saraswathi and be the main organizor of their workshop in Copenhagen with several hundred astangies from all of Europe".
The connection with the Jois family has developed and again in August 2009, September 2011, August 2013 Jens and Susanna have had the honour to host Sharath and his workshops – and Sharath will be back in Copenhagen again summer 2015.
During Jens' annual studies in Mysore he also takes classes in chanting, Yoga Sutra, Hatha Yoga Pradipika and the basics of Sanskrit with Lakshimish Bhatt, the family priest of the Jois family, who has a degree in Sanskrit and  teaches chanting in the indian tradition to the westerners at the KPJAYI shala.
With Dr Jayashree and Prof. Narasimhan, great scholars of indian wisdom, who are living in Mysore Jens studies the philosophy behind yoga and the beauty of chanting called Shruthi Paramapara, call and respons. Dr Jayashree and Prof. Narasimhan have visited our shala in Copenhagen shala both in 2009 and 2012 bringing their beautiful message of yoga to our city.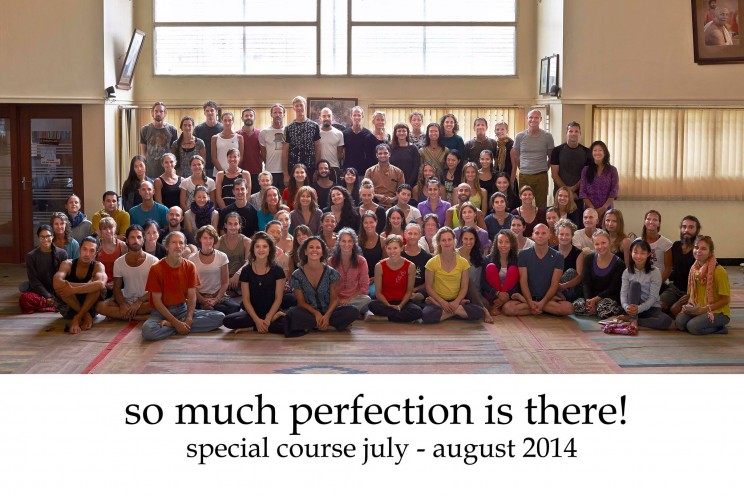 Indian studies
In 2009 Susanna and Jens met Prof. Kenneth Zysk, Head of Department of Indology at the Copenhagen University, who then gave lectures of Indian Thought here in the shala at our 10 years jubilee in September 2010. Our wish to deepen the understanding of yoga led to a course by Prof. Ken Zysk on Patanjalis' Yoga Sutra in spring 2011 in our shala and Jens is now enrolled at the Copenhagen University studying Yoga & Ayurveda with the professor. He completed the first course in May 2013 with a paper titled "Guru" aiming to define the Guru-principle; who or what is a "guru", what kind of knowledge does a "guru" teach and what special qualities does a "guru" have?
Jens is now enrolled in as a student of Indoly at Copenhagen University under the direction of Prof. Kenneth Zysk.
First time Yoga
Jens first time experienced Yoga at UC Berkeley in 1997 and back in Copenhagen he searched for this dynamic form of practice with no luck untill late 1998 when he met the small group of practitioners around the yoga teacher Bente Faurby. His first workshop was in May 1999 and over the years he has participated in workshops and retreats in Sweden, Finland, Italy, India, Portugal, Norway, Switzerland as well as being the host and main organisor of workshops and retreats in Denmark. Jens highly values all the teachings he has received from Sri K. Pattabhi Jois, Sri R. Sharath Jois and the early days with Gwendoline Hunt, Juha Javanainen and Petri Räisänen and now in recent years from Eddie Stern, Peter Sanson, Mark Robberds and of course Susanna Finocchi as well as being part of the network of teachers from KPJAYI in Mysore.
"The serenity of the people I met touched me deeply and was an inspiration which together with the feeling coming through the practice made Astanga yoga a sacred place to me – a place of rest, of peace, of trust and not being alone."
Sources
Jens is one of the initial founders and teachers of Astanga Yoga Skole København / Astanga Yoga Copenhagen. He has translated Sri K. Pattabhi Jois book Yoga Mala into danish, which was published in August 2006 during Guruji's visit. Jens is also the initiator of the documentary films "Guruji in Copenhagen" and  "Sharath in Copenhagen" about their workshops.